Yesterday I watched the last episode of "Gilmore Girls". One of my favorite TV-series – over.
Then a friend sent me a link to a site that said that there will be no 4th season of "Veronica Mars". That kinda pissed me off.
After that – to follow the theme of the day – I read that "Jericho" is also over.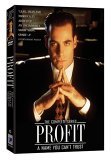 When I was young, I watched stuff like "The A-Team". When I got older, I watched "Picket Fences" and "Profit", which is still my favorite TV-series. Then came "Buffy" & "Angel".
Today there are at least 15 shows I watch – Yes, I'm an addict and I love it.
Do you notice something in this list? Keep in mind the fact that I'm German.
Exactly – I didn't mention one German TV-show. Why? Because German TV-series in general suck! There are probably one or two pearls in this pile of dirt, but that's it.
What is your secret? It can't be the gigantic budget. Shows like "24" or "Rome" might cost a lot to produce, but something like "How I met your mother"?
The Abundance of great actors? I don't think so. There are a lot of them, no doubt about that, but I wouldn't bet on a David Schwimmer block buster anytime soon.
So what makes your shows so much better than ours? The screen writers? Technology? The way they're produced?
I've got no idea. But I hope you will continue to make them. I'm an addict, remember?